Heart Rate Monitors
The Windows Training Log allows you to import data from various heart rate monitors, GPS fitness devices, cycle computers, and muscle oxygen monitors. Polar and Garmin devices are currently the most popular, so we have enhanced import options for these devices. We provide a direct import for Polar devices so there is no need to go through the Polar software, and we provide automatic import of Garmin files from the Garmin ANT Agent. We also provide a file import option for various other manufacturers devices. Further details of our various import methods can be found below.

We now provide file import capabilities for the Moxy muscle oxygen monitor. For more information on the Moxy monitor please visit www.moxymonitor.com
The above video shows importing and viewing of Moxy data, kindly provided by World Cup biathlete Marcel Laponder.

Garmin devices that ship with the Garmin Training Centre Software that includes the ANT Agent, such as the ForeRunner 405, are supported by our Garmin Automatic import. The ZeroPace Training Log Agent will automatically detect new Garmin files imported by the ANT Agent and start up the ZeroPace Training Log, if required, and import the latest Garmin file.
An internet connection is required to view GPS route data in the ZeroPace Training Log. A Google Earth export function with additional viewing options is also available in the ZeroPace Training Log.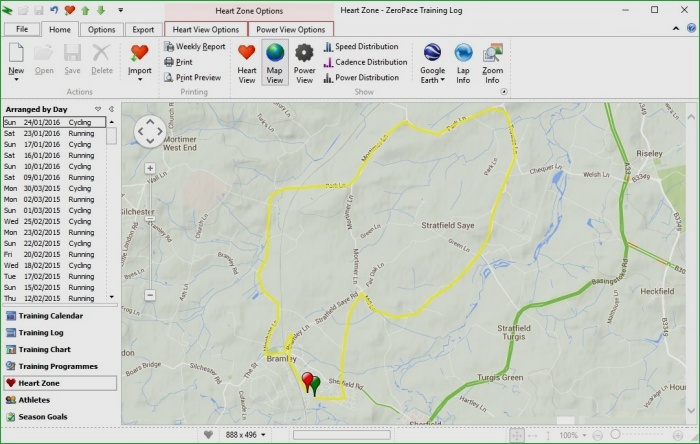 The following Polar devices are supported via IR: Polar CS400, Polar CS600, Polar RS400, Polar RS800, Polar S610, Polar S610i, Polar S625X, Polar S710, Polar S710i, Polar S720i, Polar S725, Polar S725X, Polar S810, Polar S810i, Polar AXN500, Polar AXN700, Polar E600 and Polar F55.
The following Polar devices are supported via SonicLink: Polar F6, Polar F11, Polar CS100, Polar CS200, Polar CS300, Polar RS100, Polar RS200, Polar s410, Polar s510 and Polar s520.
Not all Polar devices record heart rate, speed, cadence, altitude, power, temperature or route data for the exercise, please consult the Polar documentation for details.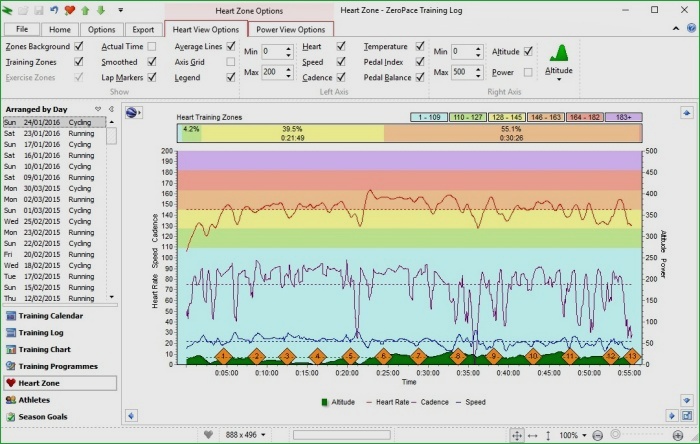 Other File Imports
Polar HRM files, Garmin HST, TCX, FIT and Connect files, Suunto SDF and FBE files, Timex CSV and PWX files, PowerTap CSV files, SRM TXT files, Specialized SLG files, CompuTrainer TXT files, Tacx RTF files, CatEye CSV files, Ciclotour TXT files, Kettler Tour Concept CSV files, iBike CSV files, Swimovate PoolMate Pro files and Moxy Monitor files.